Wordpress - Joomla - Drupal - Magento
CMS Website Development Service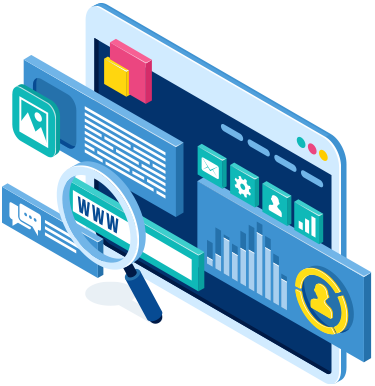 Affordable CMS website development services by professional Web Development Company with over 450+ successfully executed projects in Qatar.
A CMS or a 'Content Management System' quite literally allows you to control and manage the content within your web site – without technical training. Using this uncomplicated system you can very easily add, delete images and edit text in your web site on the fly. You can also have an unlimited number of pages and a full site-search engine. What's more with Sitemap Computers you can have a highly professional CMS web site at a very reasonable price indeed!
Simply put, if you have just a little experience with Microsoft Word then you will be able to manage the content of your own web site very easily indeed. You need have no programming or HTML experience. Editing can be done with any normal web browser from anywhere in the world – or with your mobile device
CMS web design services by our experienced web designers in Qatar are extremely user friendly & is an SEO rich content management system. Our web developers in Qatar are specialized in working with CMS frameworks such as WordPress, Joomla, and Drupal.
We are aware of the importance of content management in the successful operation of a website and are committed to provide you best results. Our CMS website development services in Qatar guarantees you an increased ability of saving money and time.
Are you interested in having full control over content on your website? As obvious, every person, businessman or professional wants to own a website that gives him the ability and freedom to easily manage their web content. In this context, CMS web designs have started to dominate the market of web development. Web designs with efficient content management system are not only user friendly but also offer several other benefits. One big advantage of CMS web designs by our CMS Website Development Company based in Qatar is that it makes it unnecessary to have technical knowledge to manage the web content.
The online dashboard offered by CMS web designers are very easy to navigate and content can be updated by anyone without being a technical wizard. SEO plugins and add-ons offered by CMS are SEO friendly and assist in increased search engine results. At Sitemap, we know how important it is for you to have full control on your website, so that you can update content whenever you want. Our team of experienced and highly skilled developers can offer you exactly what you are looking for. Our CMS web designing & development will not only save your time and precious money but are also very secure and flexible at the same time.

Here are the benefits that you will reap with our Content Management System based web design services
Customized CMS web designs based on your requirements at very affordable prices.
Better management of web content and freedom from reliability on others to update your content, hence saving your time & money.
No monthly fees or subscription charges.
Apart from efficiency, you will enjoy flexibility in navigation and increased security on your web content.
Extremely user friendly giving you the ability to frequently publish and update your contents.
Our CMS web designs are SEO friendly and will help you in increased search engine rankings.
Let's Collaborate
Why wait? Signup now to ensure your existing websites are managed by the most professional website maintenance company in Qatar.