Best affordable email hosting service in Qatar
Email Hosting Qatar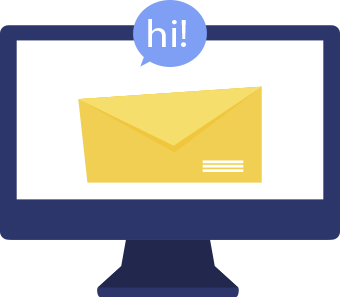 Best Business Email service in Qatar that enhances communication experience
✔ Get custom email @yourcompany.qa
✔ Seamlessly syncs across different devices for maximum flexibility
✔ Team collaboration to share contacts, calendars, tasks and notes.
If having reliable email is important to the everyday running of your business then it's important you have the best solution available. Talk to one of our experts today to discuss the best option for you needs, let us help you with the set up and contact our support team with any questions you may have.
Our Email Hosting plan comes with excellent features
Access Email from Anywhere
Easily access your emails from anywhere in the world by simply using your favorite web browser.
Calendars, Tasks, Contacts
Our webmail enable you to share important documents with your coworkers.
Security and Anti-Spam
We had equipped our server with enterprise-level security software's to keep your site safe.
Browser-based access, from anywhere at anytime
Easily access your emails from anywhere in the world by simply using your favorite web browser. Whether it's on a desktop or mobile device, a consistent look and feel gives you the exact same experience regardless of how you access your email. Our email also offers support for virtually any language, including non-Western character sets.
Check out our professional business email hosting plans that suit your business needs.

Promote your business with a domain-based email address. Did you know customers are 9x more likely to choose a business with a professional email address? Attach your company domain to your email and show your customers you mean business. Always have access to your email or your documents online regardless of where you are. With our, Rackspace Email plans it has never been easier to ensure that your email, contact, calendars, and important documents are synced and accessible across all your devices.
Are you looking for a business email solution at an affordable price?
By choosing email hosting in Doha Qatar for your business, you are also making it easier for employees to work in a more flexible and responsive manner. This model of business means that employees can work more flexible hours that will suit their lifestyle. Information will also flow more efficiently between systems. All these things will add to the efficiency of your business processes, as well as the overall success of your business. Also, by choosing email hosting, clients in Qatar receive all the benefits of a truly efficient and functional system like MS Exchange, minus the considerable cost, the large investment, and the challenges associated with maintaining your own server infrastructure.
We aim to provide flexible email hosting solutions in Qatar to clients in the surrounding areas, for this reason, we provide different levels of email hosting. We provide for everything from basic mobile delivery systems to implementing secure remote access, to password-protected and encrypted information. When you meet with us, our highly professional team members will work with you to determine exactly what level of email hosting would be best for your business. We will implement the system and help you and your staff learn to operate it. You will immediately see the increased efficiency it provides for your company.
The FAQs for Choosing the Best Email Hosting Service in Qatar
Should You Use a Separate Server for Email Hosting?
It depends. If you are using a service that offers email hosting servers then that is an advantage for you. Sitemap Computers offers email hosting service as an add-on so you don't have to use another service. All the charges will be deducted from your Sitemap Computers hosting account. On the other hand, if you are using a hosting server that doesn't offer email hosting, then you will need a separate hosting server for sending and receiving emails. You can use GSuite or Microsoft Office 365 depending on your requirements.
What bandwidth server to get for small business email hosting?
For sending emails, you are renting out space from email servers on which SMTP and IMAP email interfaces are installed. The email hosting servers manage incoming and outgoing emails. Though bandwidth doesn't usually matter when buying email hosting space unless you are sending emails in bulk. If you are sending less than 10,000 emails per day, then the Sitemap Computer's email hosting, G Suite, and Microsoft Office 365 service will serve you well.
What's the essential software for email hosting service Doha?
You will need to have SMTP, IMAP, and POP3 protocols available on your email hosting server so that you can send and receive emails easily. Most of the email hosting providers like Unlimited Qatar's email hosting, G Suite, and Office 365 offer many other features such as slides, docs, sheets, hangouts, and presentations.